Regal Pool Care Products
At Denscot Pool and Spa we carry the best pool chemicals to take care of your pool. We carry pool chemicals by Regal® Pool Care Products.
Sanitizers
The key to maintaining a crystal clear pool is a steady routine of sanitization. REGAL® sanitizers are designed to kill bacteria, algae and other living organisms. REGAL® sanitizers have built-in protection from the sun to maximize chlorine life. REGAL® sanitizers are made in the USA with the strongest formula available.
Benefits:
Strongest formula available
Built-in protection from the sun, extends the life of your sanitizers
Dissolves completely - Leaves no residue
Reduces the amount of acid required to keep your water balanced
Multiple applications
Oxidizers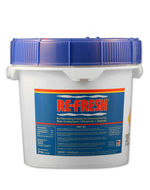 The environment, swimmers and weather can introduce germs, algae and organic contaminants into your pool. To restore your pool's luster, try REGAL® oxidizing agents.
Benefits:
Helps eliminate unpleasant odors and eye irritation
Helps your sanitizer work more efficiently
Kills germs, destroys algae and other contaminants
No need to pre-dissolve
Algaecides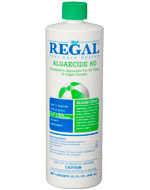 Algaecides add an extra layer of pool protection, while creating a more pleasant swimming environment. REGAL® algaecides safeguard your pool, preventing all types of algae.
Benefits:
Specifically designed to prevent the growth of algae in swimming pools and ideal for pools with attached spas and water features
Should be a part of your regular maintenance program to prevent algae
Weekly addition of this product will reduce overall maintenance costs and give you water quality you desire.
The product of choice to help keep your pool algae free
Eliminates visible algae in your pool and returns the clarity you desire
Balancers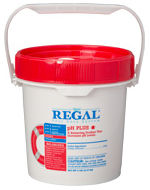 Properly balanced water prevents corrosion and staining. It will also optimize the performance of your sanitizer. Using REGAL® Balancers, as needed, simplifies the balancing act to help achieve properly balanced water.
Benefits:
Using this product will help prevent conditions conducive to cloudy water and reduced sanitizer effectiveness.
Dissolves completely
Easier to use and store than muriatic acid
When added as needed, helps keep your pH at proper levels, a key to pool water comfort and protection of your investment.
Proper addition of Alkalinity Plus will contribute to proper sanitizer performance.
Supplements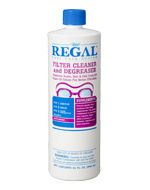 Prevent specific water problems with REGAL® supplements. The perfect complement to your pool care regimen, REGAL® offers a variety of cleaners, clarifiers and stain removers.
Benefits:
Removes dirt, scale, oils, and grease for maximum efficiency
Greatly improves filter life and efficiency resulting in clearer water and lower maintenance costs
Should be used at least TWICE A SEASON for maximum performance
For use on all types of filters
Quickly clears cloudy water
Super concentrated for maximum efficiency
Should be added WEEKLY to promote superior filtration and reduce stress on your sanitizer
Works with all types of filters