Keep Your Pool Sparkling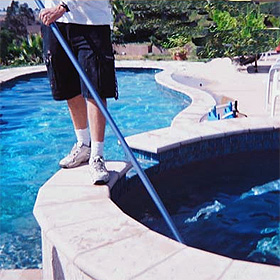 At Denscot Pool & Spa, we offer various services to make sure your swimming pool and spa look and run their best. Services include:
Acid wash & stain removal
Emergency repairs or water chemistry adjustment and analysis
Factory authorized repairs on all pool components
When you schedule any of the above services with us, you will get a courtesy confirmation call letting you know when our uniformed technician will arrive at your home. In most cases, you do not need to be there for us to perform our services.
For more information, or to schedule service, please call 860.868.7535. Or fill out the form below.
Weekly Pool Maintenance
We provide a weekly pool cleaning & chemical service so you can have a truly "Maintenance–Free" pool. We don't require an annual contract.
Each weekly cleaning visit includes:
Vacuum debris
Brush the walls & tiles.
Empty the skimmer & pump baskets
Backwash the filter
Skim away any surface debris
Test and adjust the chemicals as necessary